Pozdravy od Federácie:


Dnes budeme hovoriť o pláne Odhalenia, ktorý sa uskutočňuje vo Vašom svete. Dvaja vodcovia Temných, kľúčoví členovia ovládajúcej skupiny zodpovednej za tajné operácie pod cudzou vlajkou (false flag operations), ktorých cieľom bolo zamedziť odhaleniu, kapitulovali. Boli umiestnení do bezpečných zón aby neboli v kontakte s tými, ktorí od nich očakávajú príkaz na realizáciu plánov vytvorených Iluminátmi pre scenár odhalenia. Boli efektívne zneutralizovaní bez toho, aby im bolo ublížené.

Musíte si pamätať, že sú tu dve rôzne sily, ktoré operujú na Vašej planéte. Jedna pozostáva z bytostí nepochádzajúcich z Vášho sveta, ktorí sa snažia ovládať Vás využívaním ľudí z Vašich radov, ktorí sú na vplyvných pozíciách a ktorých dôvera bola skorumpovaná mocou a chamtivosťou. Tí druhí sú ich prisluhovači, Vaši vlastní ľudia, ktorí sa rozhodli odvrátiť sa od svojho druhu a slúžiť temnote. O tých čo nie sú z Vášho sveta sme sa postarali vrátane zničenia podmorských zariadení z ktorých po dlhú dobu operovali. Je na Vás aby ste spravodlivo rozhodli o tých z Vášho sveta keď na to príde čas. O túto eventualitu sa postarajú Vaše inštitúcie. Sme si istí, že tento proces bude humánny a nie pomstou, ktorá je stratou energie a slúži len na vytváranie temnoty.

Božský plán je už v plnom prúde. Môžete od nás očakávať odkaz, ktorý doručíme ľuďom Vášho Sveta keď prídeme. Obíde všetky Vaše inštitúcie a pôjde rovno k ľuďom v pôvodnej podobe bez cenzúry. Povieme Vám: Ľudia tohto sveta. Nebojte sa, pretože my prichádzame v mieri. V nadchádzajúcich dňoch budete mať možnosť stretnúť sa s nami. Teraz Vás prosíme nepanikárte a nebojte sa nás. Prišli sme sem z celého tohto a iných vesmírov pomôcť Vám v týchto nadchádzajúcich dňoch. Nechceme si Vás podrobiť ani zotročiť, alebo ovládať. Dni, keď ste mali vládcov sú preč. Ste slobodní. Prišli sme dohliadať nad tým, aby táto sloboda nastala a želáme Vám iba lásku a mier. Sme tu, aby sme Vám poskytli Vašu skutočnú históriu, mozaiku toho ako ste vznikli a kým ste boli, pravdu, ktorá Vám po dlhú dobu bola odopieraná. Sme Vaša rodina a želáme si spojiť sa s Vami do jedného národa. V nastávajúcich dňoch Vás budú Vaši predstavitelia informovať o tom, že sme boli prítomní vo Vašom svete dávno pred Vaším narodením. Želáme Vám aby ste sa stali vesmírnymi občanmi a aby ste s nami navštívili hviezdy. Váš čas evolúcie nastal, s čím prichádza veľká zodpovednosť a preto ponúkame našu pomoc.

Toto bude iniciovať naše odhalenie Vášmu ľudskému druhu. Je to odkaz, ktorý doručíme všetkým a všade keď tento moment nastane. Tento moment je na Vás. Plány ktoré sa spustia po tomto odhalení budú pracovať ako hodinky, pretože taký bol náš zámer. Náš čas odlúčenia sa skracuje každou minútou a sme stále s Vami. Cítime, že strácate vieru v tento proces a máte malú dôveru v naše úsilie posunúť ho ďalej. My vás nesklameme. Vy nesmiete sklamať sami seba.

Ste skutočne silné spirituálne bytosti a čas žiť s týmto vedomím práve nastal. Prinášame Vám radosť, lásku a v srdci cítený mier ako naše dary pre Vás. Buďte pripravení na ďalšiu fázu v tomto procese, pretože tá je na Vás.


Buďte v mieri.
Channeler: Wanderer of the Skye
Preložili: Martin a Danica
Translations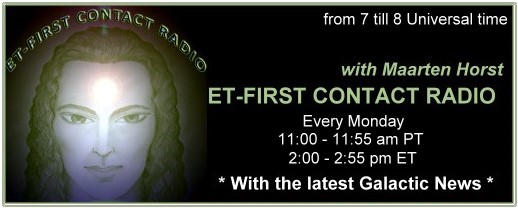 Every Monday night from 8 to 8:55 pm
channelings and related matters are being discussed on First Contact Radio.
The show is hosted by Dutch lightworker Maarten Horst and is presented in English.