Pozdravy od Federácie:

Radi by sme s Vami hovorili o viere. Pre väčšinu z Vás je viera všetko čo máte. Nevideli ste nás, nekomunikovali ste s nami, nemáte žiadnu reálnu vedomosť o našej existencii okrem týchto odkazov. Neboli ste na palube našej lode, nemáte žiadnu možnosť vedieť či niektorý z odkazov, ktoré sa k Vám dostali boli od Federácie, alebo zo spirituálnych zdrojov, respektíve inak povedané, či to nie sú len predstavy tých, ktorí tieto slová dávajú na papier. Napriek tomu ich akceptujete, pretože Vaše srdce vie, že rezonujú pravdou, ktorá Vám z iných zdrojov bola upieraná. Toto je viera. Nie je pre Vás o nič slabšia ako tá, ktorú majú veriaci v náboženstvá. A v tomto zmysle musíte vždy zostať ostražití, či odkazy pochádzajú od nás, alebo od tých, ktorí predstierajú byť nami, a takisto od tých, ktorí právom kritizujú naše slová z pozície outsiderov.


Vo viere ste na seba zobrali úlohu posunúť sa do novej doby bytia. Buď sa v nadchádzajúcom roku potvrdí, že ste mali pravdu, alebo budete musieť prehodnotiť všetko, čím ste. V každom prípade ste sa prebudili do reality presahujúcu Vaše najdivokejšie predstavy. Svet, ktorý nie je zaplnený statickými vecami, ale pohybujúcimi sa energiami, ktoré spoluexistujú s Vašou vlastnou existenciou. Toto je skutočná podoba reality a vy sami si to musíte "spracovať".


My si stojíme za tým, že všetko čo sme povedali je reálne a pravdivé. Musíte akceptovať to, čo môžete a zvyšok prehodnotiť podľa toho, ako to budete cítiť. V tomto máte slobodnú vôľu a výber. Iba vy môžete robiť tieto rozhodnutia. Stojíte na strane lídra krajiny prvého sveta, ktorý ako sme Vám opakovane hovorili, bude ten, ktorý Vás úspešne vyvedie z pazúrov Iluminátov, alebo sa poddáte tlakom "skutočného sveta" a budete veriť tomu čo Vám hovoria tieto zdroje? Opäť, voľba je Vaša. A vždy pamätajte, Vašu realitu si vždy vytvárate Vy sami. Boli by sme radi, aby toto bolo jasné. Vy sami ste zodpovední za Váš osud. Nikto iný.


Zanedlho sa Vám odhalí mnoho našich lodí v jednom z veľkých európskych miest, ako potvrdenie z našej strany, že sme tu, že poznáme Vaše obavy a Váš strach, poznáme Vašu bolesť a Vašu nespokojnosť. Nech je toto upokojením pre Vás, našich priateľov. Najväčšia tma je vždy pred úsvitom. Táto cesta nikdy nebola ľahká, ale vy ste ju skvele zvládli. Nemôžeme byť na Vás viac hrdí. Máme pred sebou už len tak málo a potom skutočne uvidíte, ako sa do toho pustíme.


Ako sme v minulosti hovorili, Odhalenie bude prvou veľkou udalosťou, kedy budete musieť reálne akceptovať všetko čo sme Vám hovorili. Chceme to priniesť až k Vášmu prahu. Existujúcu priepasť ste zúžili natoľko, že s potešením si vychutnávame ako preberáte kontrolu nad Vašim vlastným osudom a smerujete k úspešnému koncu.


Čoskoro niektoré svetové vlády vznesú obvinenia proti veľkým hráčom na medzinárodných finančných trhoch v reakcii na Vaše protesty a ako odpoveď na stúpajúcu energiu svetla, ktorá rýchlo odplavuje všetku temnotu. Toto nie sú predzvesti signálov na ktoré čakáte, toto SÚ tie signály. Prestaňte zatvárať oči nad dôkazmi, ktoré sú všade okolo Vás.


Zostaňte pozitívni vo všetko čo hovoríte a robíte. Pamätajte, že všetci ste v tomto spoločne. Všetci máme svoje úlohy a všetci ich plníme tak, ako sa nám to zdá správne. Povzbudenie od tých, ktorí nezaváhajú vo Svetle pravdy veľmi pomôže tým, ktorí sa dostali do bodu, kedy pochybujú o svojej viere. Preukazujte si navzájom lásku, ktorú si zaslúžite a tá sa Vám vráti späť.


Buďte v mieri.
Channeler: Wanderer of the Skye
Preložili: Martin a Danica
Translations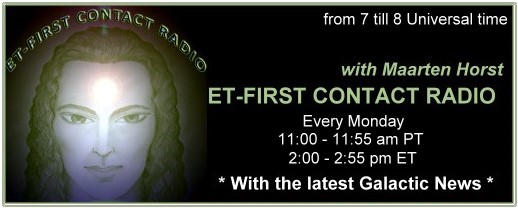 Every Monday night from 8 to 8:55 pm
channelings and related matters are being discussed on First Contact Radio.
The show is hosted by Dutch lightworker Maarten Horst and is presented in English.