Pozdravy od Federácie:

Prichádzame znova, aby sme zaplnili medzery v informáciách, ktoré ste nedávno dostávali. Zdá sa, že čím ďalej tým viac sa deje vo Vašom svete a tie udalosti na ktoré ste sa pripravovali, sa približujú veľkou rýchlosťou. Je to tak, ako to bolo naplánované. Teraz sa nachádzate na začiatku práve prebiehajúcich zmien o ktorých sa tak dlho rozprávalo. Ak všetko vyzerá divoko, je to preto, že tak to má byť.

Ilumináti sa po istý čas pokúšali zistiť na čo sa chystáme a aké sú naše plány pre budúcnosť ľudstva. Pokúšali sa všetkými možnými spôsobmi zistiť tieto informácie. Pokúšali sa monitorovať tých, s ktorými sme boli dlhé roky v kontakte. Pokúsili sa zostreliť naše lode, nie iba kvôli technológiám, ale aj pre možnosť získať prístup k členovi Federácie, dúfajúc že sa im podarí z tejto bytosti "extrahovať" informácie. Používali aj psychických bojovníkov, aby telepaticky "odpočúvali" naše aktivity kým sme pracovali na obežnej dráhe Vášho sveta a na rôznych našich základniach. Na margo toho, nepredpokladali, že naša technológia dokáže takéto "vzdialené sledovanie" detekovať a blokovať ho podľa potreby. Skúšali to všetkými možnými spôsobmi a boli neúspešní.

Výročie nášho "dátumu" ktorý sme stanovili pred troma rokmi práve prešlo. Tento dátum bol stanovený z rôznych príčin. Napriek tomu, že našou snahou bolo dodržať tento dátum, tak sme vedeli, že bude podrobne sledovaný Iluminátmi a tak sme mali možnosť ako zareagovali a čo urobili. Momentálne nemôžeme o tejto záležitosti poskytnúť viac informácií. V každom prípade sme teraz schopní predpokladať všetky kroky, ktoré môžu byť urobené vzhľadom na obmedzenú kapacitu Iluminátov zasiahnuť.

Pracovníci svetla všade nedočkavo čakajú na znamenie zvonku, že plány sa hýbu dopredu. My hovoríme – pozrite sa teraz okolo seba, pretože všetko, čo vidíte je súčasťou tohoto plánu a zároveň výrazným znamením. Zničenie podzemných základní, hnutia veľkého množstva ľudí zjednotených v proteste proti nespravodlivosti na celej Zemi, reakcia médií na tieto udalosti, reakcia elity a množstvo ďalších faktov je tam vonku na Vaše uváženie. Sústreďte sa pozitívne a rozhodne na Odhalenie a ono sa uskutoční.

Čoskoro tu bude ďalšia "korekcia" v energetickom toku Zeme, čo umožní presmerovať ďalšiu energiu v jej prospech. Dopad tejto energie nebude môcť byť ignorovaný, ale nie je to druh dopadu aký spôsobuje človek a nie je dôvod na strach a paniku. Taktiež sledujte udalosti vo Vašich médiách ktoré opisujú časté pozorovania lodí, ktoré sa dejú po celom Vašom svete. Je badať výrazný posun v spôsobe prezentovania takýchto správ. Ovplyvní to spôsob, akým budú prezentované väčšie otázky v blízkej budúcnosti a v konečnom dôsledku slúži ako maják zmeny v týchto záležitostiach.

Vždy na Vás myslíme v týchto finálnych momentoch ktoré vedú k týmto zásadným zmenám na Vašom svete. Sme hrdý na to byť vašími súrodencami a posielame Vám lásku.

Buďte v mieri.
Channeler: Wanderer of the Skye
Preložili: Martin a Danica
Translations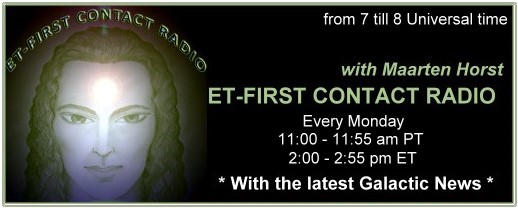 Every Monday night from 8 to 8:55 pm
channelings and related matters are being discussed on First Contact Radio.
The show is hosted by Dutch lightworker Maarten Horst and is presented in English.