Pozdravy od Federácie:

Vraciame sa s ďalšími novinami pre Vás počas týchto ubúdajúcich dní, ktoré ostávajú do Odhalenia. Už teraz je na Zemi veľký pohyb smerom ku všetkým aspektom procesu Vzostupu. Čím ďalej tým viac ľudí sa prebúdza. Niektorí sú síce ešte trochu "ospalí" a vidia len začiatky pravdy. Ostatní, ktorí práve zo seba striasajú posledné zbytky ospalosti, vidia jasnejšie čo presne sa dialo v ich životoch kvôli silám, ktoré sa rýchlo vzdávajú Svetlu. Vzostup Vás privedie do úžasných výšok a vy sa konečne stanete tými veľkými a úžasnými spirituálnymi bytosťami, ktorými sa máte stať.

Všimnite si, ako sa Vaše myšlienky posunuli od pochybností o našej existencii k sústredeniu sa na rôzne aspekty tohoto prebiehajúceho hnutia o ktorom sme Vás počas tých dlhých rokov informovali. Je to signálom, že už nie je žiadny čas na pochybnosti. Sotva ostáva čas oceniť úžasnosť toho, čo sa práve deje na Vašej Zemi. Podujali ste sa na veľkú úlohu a sme hrdí na Vašu snahu dovidieť až na jej úspešný koniec.

V krátkej dobe Vaša práca a tieto odkazy budú k dispozícii oveľa väčšiemu publiku ako ste si dokonca aj vy sami dokázali predstaviť za možné v tejto časti "hry". Je to kvôli niekoľkým procesom, ktoré sú práve spúšťané vo Vašich mediálnych a vládnych kanáloch. To umožní väčšiu návštevnosť stránok, ktoré napomáhajú pochopeniu týchto odkazov a cesty Vzostupu. To zahŕňa nevyhnutný "tréning" insiderov za použitia materiálov na týchto internetových stránkach. Buďte na to pripravený.

Aj keď nepresadzujeme žiadny konkrétny dátum pre Odhalenie, alebo Vzostup, akýkoľvek dátum ktorý si zvolíte, je práve taký správny ako Vaše myšlienkové zámery tvoriace realitu. Sme pripravení pohnúť sa smerom k Odhaleniu podľa plánov, na ktorých sme dlhý čas pracovali.

V priebehu nasledujúch týždňov budete žasnúť nad obrovským množstvom našich lodí ktoré sa Vám ukážu na oblohe. Zložitosť našich plavidiel, ich rozmery a výkon sa budú postupne zvyšovať v priebehu času. Toto bude aj znamením, že to o čom Vám rozprávame sa začína realizovať. Zrýchľujeme proces Odhalenia, pretože musíme. Momentálne je to nevyhnutné a nie je žiadna iná alternatíva. Avšak sme celkom potešení Vaším pokrokom pri protestoch a demonštráciách, ktoré umožnili rozšírenie nového spôsobu myslenia u Vás smerom k ozajstným zmenám. Teraz, keď sme videli ako sa toto samé vyvinulo, dostali sme povolenie pokročiť s našimi plánmi v tomto zmysle.

Očakávajte veľa v priebehu nasledujúcich pár týždňov a nebudete sklamaní. Odhalenie je predo dvermi. Keď zaklope, vítajte ho s otvorenou náručou, pretože uvádza naozaj novú dobu pre Vašu existenciu. Krátko nato prídu ďalšie odhalenia od jedincov z Vašej Vnútornej Zeme ktorí k Vám prídu s množstvom dôkazov preukazujúcich existenciu Vašich prerušených vzťahov. Príde to v obrovskom množstve foriem, takže pozorne sledujte tento vývoj. Buďte otvorení príležitostiam ktoré sa Vám naskytujú a tieto nasledujúce dni sa Vám budú zdať naozaj vzrušujúce a užitočné.

Buďte v mieri.
Channeler: Wanderer of the Skye
Preložili: Martin a Danica
Translations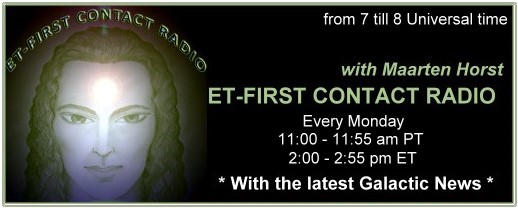 Every Monday night from 8 to 8:55 pm
channelings and related matters are being discussed on First Contact Radio.
The show is hosted by Dutch lightworker Maarten Horst and is presented in English.