Pozdravy od Federácie:
Na poslednom zasadnutí rady sme diskutovali o Vašich podmienkach. My nie sme dokonalí, rovnako ako vy. Nie sme bohovia. Niekedy máme problém pochopiť Vaše ľudské myšlienky a emócie. Predsa ich však cítime. Poznáme Vašu frustráciu, pretože je aj našou. Rozoberali sme ako najlepšie pristupovať k Vašemu odvracaniu sa od nás a hnevu a frustrácie ktorý vytvoril túto priepasť. Neprišli sme na žiadne jednoduché riešenia. Preto sme sa dohodli, že najlepším prístupom bude jednoducho nechať to na Vás kde teraz a v budúcnosti chcete byť. Vaše myslenie je Vašim vlastným a nie je tu nič, čo by sme mohli, alebo chceli spraviť čo by to zmenilo. Vy sami musíte urobiť Vaše rozhodnutia.
Prídeme nezávisle na Vašich myšlienkach, emóciách, alebo pocitoch voči nám. To je súčasťou našej zmluvy nie s Vami, ale s božstvom. Máme dohodu, od ktorej nemôžeme odstúpiť. Na rozdiel od Vás v tomto ohľade nedisponujeme slobodnou vôľou. Vzdali sme sa jej výmenou za napojenie sa na božský zdroj. Je to súčasťou vyššej formy bytia. Aj tak prídeme. Tak to je.
Je medzi Vami veľa takých, ktorí sa rozhodli zosmiešňovať a odvrátiť sa od všetkého o čom sme dlhú dobu informovali. Niektorí z Vás sa rozhodli hrať to na obe strany aby ste sa necítili trápne pred tými, ktorí žijú v "reálnom svete" každodenného života – platenia účtov, zarábania na živobytie, jedenia, pitia a zábavy. Na druhej strane sa dostávate do chúlostivej situácie a všetko čo predstavujeme Vás zaraďuje do kategórie bláznov. Sme si vedomí tejto stigmy a vždy sme Vás obdivovali za ochotu zobrať na seba takéto bremeno toho, čomu môžete len veriť. Len nedávno ste začali objavovať svoju schopnosť rozlišovať pravdu pomocou svojho srdca, namiesto hlavy.
Aj my sme sa dostali na križovatku. Naša božská úloha stojí nad priepasťou reality. A aj keď nie sme vo Vašom čase, poznáme Váš čas. Rozumieme termínom ktoré Vás frustrovali a ktoré sme tak často používali. Hovoríme, že tieto boli použité aby zvýšili frekvencie Vašich vibrácií, pretože v tomto režime je pre nás oveľa jednoduchšie osobne s Vami komunikovať. Hustota Vášho sveta je pre nás inak ťažko akceptovateľná. Nejde ani tak o to, že sa nedokážeme k Vám "dostať", skôr je pre nás bolestivé byť v prítomnosti takýchto nesústredených myšlienok a negativity, dokonca aj v malom množstve. Aj toto sú aspekty života vo vyšších dimenziách. Pokúšali sme sa Vám to vysvetliť, ale rozhodli ste sa to interpretovať v medziach trojrozmerného sveta a toto Vám nemôže dať ozajstnú predstavu o tom, aké je to pre nás náročné.
Problém je v tom, že očakávate masívne zmeny vo vedomí, vo vnímaní Vašej reality a vo všetkých aspektoch Vášho života tak, že sa jednoducho znesieme dole a mávneme čarovnou paličkou. Zmeny sú postupné a niekedy ťažko viditeľné, ale prebiehajú okolo Vás neustále, dokonca aj keď čítate tieto slová. Máme na mysli zmeny o ktorých sme Vám hovorili. Hľadajte ich v malých dávkach a možno zbadáte, že nie ste až tak sklamaní.
Náš čas spolu sa blíži, o tom Vás uisťujeme. Stojte si pevne za svojimi princípmi a presvedčeniami. A vedzte, že sme s Vami v Láske a vďačnosti za naše spoločné spojenectvo.
Buďte v mieri.
Channeler: Wanderer of the Skye
Preložili: Martin a Danica
http://wandereroftheskiesrussian.blogspot.com/
- RUSSIAN
http://arabicwanderer.blogspot.com/
- ARABIC
We are looking for new translators English-Romanian, English-Indonesian and English-Hebrew for Wanderer's messages.
We are a team of translators from all over the world (more than 100 people for 24 languages) that wants to spread messages of Unconditional Love and Spirit Light as far and wide as possible.
Would you like to join us? Please send an email to
a
and we'll get back to you. Please understand that we are looking for native speakers (target language) to keep quality standards as high as possible.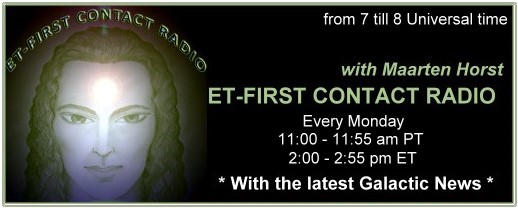 Every Monday night from 8 to 8:55 pm
channelings and related matters are being discussed on First Contact Radio.
The show is hosted by Dutch Lightworker Maarten Horst and is presented in English.